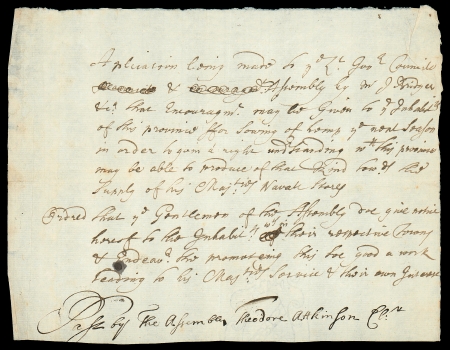 Lot 10 - 1699 (c.) New Hampshire Hemp Act, handwritten original copy of the act that was passed sometime in 1699 promoting the planting of hemp to support the British Royal Navy, Very Fine, interesting historical collateral. Estimate $750-1,000. Image courtesy of Matthew Bennett International.
Late last week in a PR Newswire
press release
Matthew Bennett International announced that on October 7 they will auction what is arguably the finest collection of American Colonial and early United States mails ever assembled - The Siskin Collection.
Important historical documents up for auction include a letter dated 1698 from Lord Bridger encouraging the people of New Hampshire to grow hemp along with the original document known as the Hemp Act of 1699. These documents are Lot 9 and Lot 10, part of Sale 290 , Colonial & Early United States Mails
Lots 1-73 - Parliamentary Post (1692-1783)
.
The Siskin Collection will be auctioned on Friday, October 7, at the Four Seasons Hotel in New York. Pre-auction viewing will be at the same location on October 6-7. Bids for the auction will be accepted via mail, fax, online, eBay Live, and live on the phone. For more information please see the Matthew Bennett International web site at
http://www.bennettstamps.com
.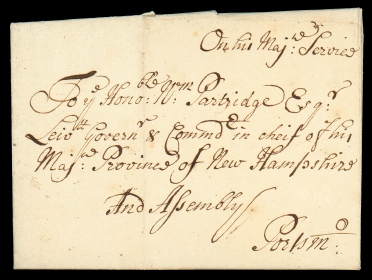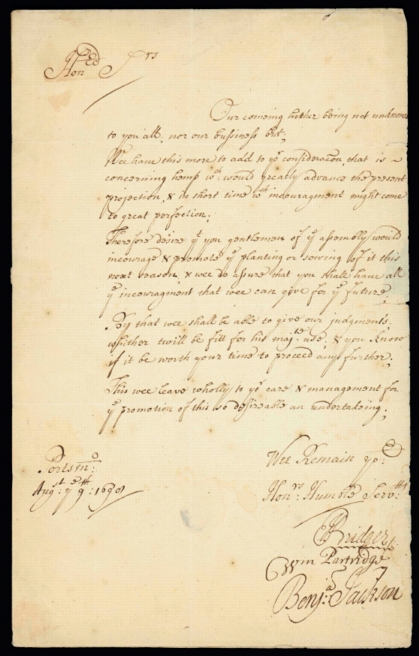 Lot 9 - 1698 (Aug. 9) Portsmouth N.H. to Boston Ms., datelined folded letter signed by Jonathan Bridger, William Partridge, and Benjamin Jackson, endorsed "On his Maj: Service", addressed to "Wm: Partridge, Lt. Gov & Commander in chief of his Maj: Province of New Hampshire and Assembly", carried by courier, Very Fine and choice. Estimate $4,000-5,000. Images courtesy of Matthew Bennett International.