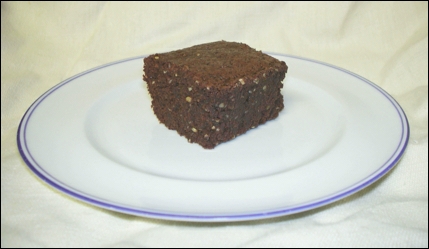 After extensive testing I have added another recipe to the
Hemp Report Recipe Index
(password required for login). For those of you who have not registered as a Hemp Report subscriber here is the recipe:
Hemp BrowniesIngredients
:
6 large eggs
1 1/2 cups sugar, sifted
1 1/2 cups dark brown sugar
12 ounces (3 sticks) unsalted butter, melted
1 Tbsp. vanilla extract
3/4 cup a.p. flour, sifted
1 3/4 cups natural cocoa powder, sifted
3/4 tsp. salt
2/3 cup shelled hemp seed, toasted
soft butter, for buttering the pan
flour, for dusting the buttered pan
Method
:
Preheat the oven to 325° F. Toast the shelled hemp seed on a half sheet pan while the oven is preheating. Butter and flour a 9"x12" glass baking dish. Remember to check your toasting hemp seeds, pull them out of the oven when light golden brown and let cool.
Sift the sugar and mix with the brown sugar making sure that there are no lumps. Melt the three sticks of butter. Sift together the flour, cocoa powder, and salt and mix in the shelled hemp seed.
Beat the eggs at medium-high speed until fluffy and light yellow in a 5 1/2 quart or larger mixer fitted with a whisk attachment. Mix in the sugars with a spatula. Then mix in the melted butter and vanilla extract. And finally mix in the flour, cocoa powder, salt and shelled hemp seed just until moistened. Do not over mix.
Pour the batter into the prepared glass baking dish, level the top of the batter with a spatula, tap the bottom of the pan with you hand to settle the batter and bake for 1 hour at 325° F. A toothpick inserted into the center of the brownies should come out clean. When the brownies are done, remove to a cooling rack. Let cool at least one hour before cutting and serving.
Notes: It is worth the effort to find a quality natural cocoa powder. I like
Guittard
High Fat Natural Process cocoa powder and
Scharffen Berger
Natural Cocoa Powder (Unsweetened). Ask at your favorite natural food store to see what natural cocoa powder they have in their bulk bins.